Learn How Post Settlement Funding Advances Work From Actual Case Studies
Real Post Settlement Funding Case Studies – We write a lot about post settlement funding at Balanced Bridge Funding. In the past, we have used a lot of fictitious examples to explain how post settlement funding for attorneys works. But in this article, we are providing examples of post settlement funding from real cases we have funded for attorneys and plaintiffs.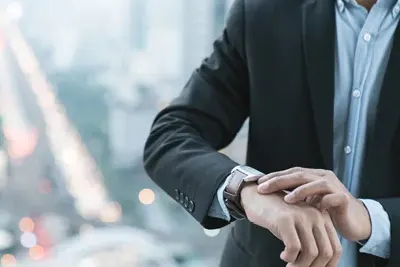 We will cover what happened with the case, the amount of post settlement funding the attorney requested, how we arrived at a funding amount, and the outcome of the post settlement advance for the attorney.
We have, of course, left out all the names of attorneys and names of cases as our clients prefer their privacy. All information contained in this article is meant to educate only. Every post settlement funding request is unique and handled on an individual basis. Because of this, it is important not to attempt to extrapolate fees or amounts and use those numbers for pre-planning purposes.
As an example – if we have a long-standing relationship with funding a specific attorney or law firm and they are good at accurately predicting timelines for their cases – we might advance more because of our relationship with that client. But working with a first-time client or a new attorney or law firm, we might advance less depending on the case.
It is also important to know that Balanced Bridge Funding is not a broker. We are a direct legal funder. Because of this, when you work with us you are always communicating with (and making a deal) with the people who are making the final decision on your funding.
We hope you enjoy learning more about how post settlement funding works from the following real life case studies we have provided. If you have any questions or are interested in learning more about post settlement funding for attorneys (or plaintiffs), please call one of our legal funding specialists at 267-457-4540.
What is Post Settlement Funding for Plaintiff Attorneys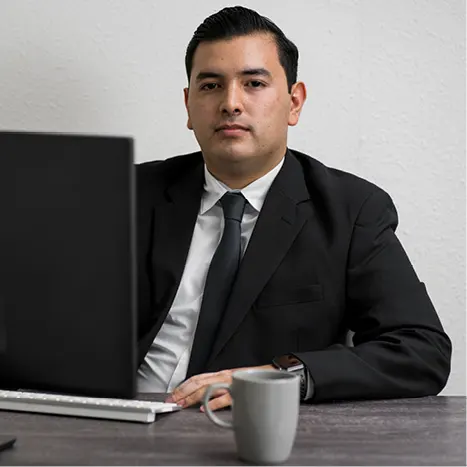 Before we begin, it is important to explain what post settlement funding is. Post settlement funding for plaintiff attorneys is a financial vehicle that allows attorneys, law firms, and even plaintiffs to take out advances on the contingency fees (or settlement/award for plaintiffs) they are owed when they win a case.
Lawsuits advance slowly through the court system and can take years to settle. And once a settlement agreement is reached, it can still take a long time for attorneys to get paid their fees.
Lawyers who work on contingency fees have to finance the entire cost of winning a court case out of pocket. For the attorney, this means laying out cash the entire time to win the case and then still having to wait for the defendant to pay in order to get their money.
Post Settlement Funding for Plaintiff Attorneys allows lawyers to take out an advance against the money they are owed once a case settles. They can use these funds to pay bills, continue operations, and/or fund future cases to keep the law firm growing.
Why do Law Firms Use Post-Settlement Funding
Law firms use post settlement funding to help get money back in their bank account to help manage cash flow. The law firm might have spent years working to win a settlement or judgment on behalf of their client – and often they must wait months or sometimes years to receive the funds from the defendant. Post settlement funding allows them to get some of their money right away and the rest later.
Lost time is lost opportunity – there is an opportunity cost associated with waiting on anything, including money. By getting access to the contingency fees they are owed, law firms can hire new talent, search for more cases, increase their marketing, and more.
Sometimes the lawyers just want to get some of their money as soon as possible. After all, they've probably endured years of fighting in court on behalf of their client, and now that the case is over, why wouldn't they want to get some of their money in the bank?
Infographic – How Post Settlement Funding for Law Firms Works

Let us explain how Post Settlement Funding for Law Firms Works
Let's say you are going to receive $100,000 in fees from a settlement in three months, but you need some of that money now.
Here is a fictitious example of how Legal funding for class action plaintiff attorneys works:
$100,000 – Amount of Contingency Fees You Are Owed in three months
$50,000 – Amount of Post Settlement Advance You Want to Take Out
$45,000 – Amount You Receive Right Away from a Legal Funding Company
$50,000 – Remainder of Money You Will Receive When the Settlement Check is Paid (assuming it is paid in three months)
$95,000 – Total Amount You Will Receive
($45,000 Advance + $50,000 When Settlement Finally Pays Out)
$5,000 – Amount of Money the Legal Funding Company Makes for Advancing You $45,000
NOTE: This information is a fictional example for the purpose of explaining how post settlement funding works and does not reflect rates or fees charged for post settlement funding as each case is different.
REAL POST SETTLEMENT FUNDING CASE STUDIES
---

Post Settlement Funding Case Study #1: Class Action Lawsuit Against an Airline
Our first case study involves an attorney we have worked with for more than seven years and has worked with Balanced Bridge Funding on post settlement funding multiple times.
Preliminary approval was granted for a class action suit against an airline that allegedly denied its employees meal breaks, incorrectly calculated overtime hours, and failed to reimburse employees for expenses related to the maintenance of their required uniforms.
Even though preliminary approval had been granted, the hearing for final approval of the class action settlement was not scheduled to happen for six months. The plaintiffs' counsel requested a post settlement funding advance on their portion of the fee while they waded through the standard delays that happen while processing class action lawsuits.
In the end, the airline agreed to pay $3,555,941 into a settlement fund and additionally agreed to not oppose plaintiff counsel's fee request up to 33% of the settlement fund, which would be approximately $1,185,195.
The Results
The attorney received early access to a portion of his fee which allowed him to cover operating expenses as well as marketing expenses needed to continue seeking new clients. Final approval was ultimately granted. The court approved the full 33% Attorneys' Fees which equaled $1,185,195. The attorney repaid us in seven months (as the attorney projected).
---

Post Settlement Funding for Attorneys – Case Study #2: Demolition Accident
A plaintiff requested a $600,000 advance on her almost one billion dollar award for injuries she sustained when the wall of a building undergoing demolition collapsed on top of an adjoining store the plaintiff was in. The plaintiff involved was struck by debris and severely damaged her lower body. She also suffered lung and kidney problems from breathing in toxic material while trapped.
Seven people were killed and twelve people were injured in the accident, which gained national attention. Due to the highly publicized nature of this case, all details regarding the award amounts and distribution were easily verified online.
The plaintiff hired a firm with a national reputation for successful outcomes in catastrophic injury cases. The law firm secured the plaintiff the largest award in the settlement.
Once the defense settled all claims, the final awards to each plaintiff were released. At the time of the advance request, the plaintiff's motion for emergency release of funds was denied and a fellow plaintiff's counsel was making objections to the release drafted by the defense. Our client's attorney indicated that it would only be an additional two months until the full award would be distributed, but the plaintiff could not wait due to their emergent healthcare needs.
The Results
The plaintiff gets immediate access to the money she needed, enabling her to get the health care treatment she desperately needed. The plaintiff's attorney repaid the advance in the amount of $638,299 one month after the initial advance was funded.
How Long Does It Take to Get Paid From a Settlement?
There is no short way to answer this question. Once a case settles there are many factors that go into determining when a defendant has to pay what they owe. In some cases, a plaintiff might receive their funds in one month. In larger settlements or class action settlements, it can take many months, even years, before the defendant pays.
Example: In the recent JUUL E-Cigarette maker class action lawsuit, JUUL was given the option of paying the settlement (almost $300 Million) over a period of ten years. Read more about the JUUL E-Cigarette maker class action suit.
Example: When USC settled its sexual assault class action lawsuit, USC was allowed to pay plaintiffs over the course of almost eighteen months, in spite of the fact that they had ample ability to pay at any time. Read more about the USC class action lawsuit settlement.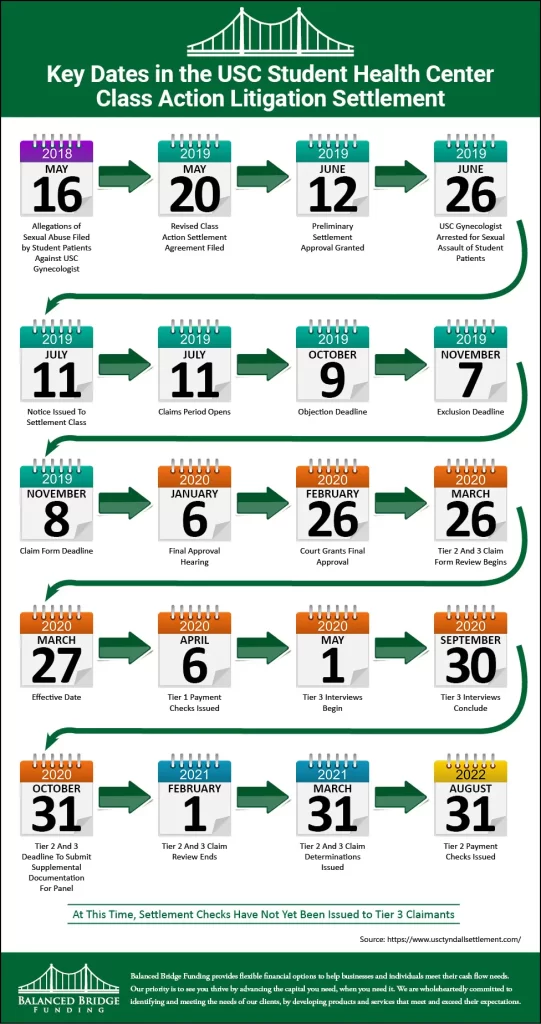 You can learn more about how long it can take to get paid from a settlement HERE.
So you see, it can take a long time to get paid from a settlement award or judgment once a lawsuit concludes.
If you'd like to learn more about how long it takes to get paid from a big case like a class action lawsuit settlement, read our article about how long it takes to get a check.
Is Post Settlement Funding for Law Firms a Loan?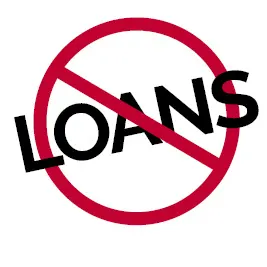 A post settlement advance for Law Firms is not a loan. When you receive a settlement advance, the legal funding company does not loan you money. The fees you are owed from a lawsuit are considered an asset (like a stock or bond). And just like any other asset you own (like a stock, bond, or your car or house); you can sell it to someone else.
Using the example from the infographic above, this person agreed to sell $50,000 of their fees for the price of $45,000. The settlement advance company now OWNS the right to $50,000 of the lawsuit settlement and will receive their $50,000 directly from the case attorney of record. They bought the asset from you for $45,000 and will receive $50,000 from the attorney when the settlement award is paid, earning the legal funding company $5,000.
Who Pays the Legal Funding Company Back?
For attorneys, once you receive your contingency fees, you pay us back (in most cases). If the attorney is securing post settlement funding for a client, we usually notify the attorney of record of our ownership of a portion of their settlement award. In most cases, the plaintiff's attorney will usually pay us back, but if not, we can collect from the attorney of record.
Summary – Real Post Settlement Funding Case Studies
We help lawyers, law firms, and plaintiffs get access to some of the money they are owed from lawsuits every day. It takes a long time for a lawsuit to reach a conclusion. In fact, stalling is a known tactic employed by defense attorneys to try to delay payments for as long as they can on their client's behalf.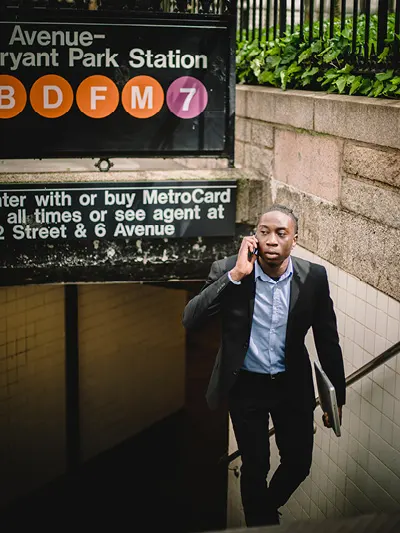 It is extremely expensive for plaintiff lawyers to litigate cases on behalf of their clients over long periods of time without getting paid until they win. But that is only half of the story. As we have shown in this article, even once a settlement is reached, it can take months or years before the defendant pays what they owe, making the wait even longer.
Post settlement funding enables plaintiff lawyers to get access to some of their money in advance to fund operations, pay bonuses, and launch marketing campaigns to take on more clients. Without post settlement funding, they would be forced to wait on the money to keep moving their businesses forward.
Post settlement funding is not a loan. Contingency fees you are owed are considered an asset, just like a stock or bond is an asset. Because your pending fees are an asset, you can sell them. Once you sell your pending fees, the purchaser is the new owner. You get the proceeds from the sale, and the purchaser gains ownership over something they believe will be more valuable in the future.
Balanced Bridge Funding funds plaintiff attorneys as well as plaintiffs. If you are a plaintiff attorney, we can fund your caseload, and we are also a great resource to help your clients get some of their settlement money in advance, which they often desperately need.
About Legal Funding with Balanced Bridge Funding
Does Balanced Bridge Funding Offer Pre-Settlement Lawsuit Funding?
Balanced Bridge Funding does not offer pre-settlement funding at this time. We do offer post-settlement funding options for attorneys as well as plaintiffs whose potential settlements qualify (which many do).
A Post Settlement Advance is a Non-Recourse Transaction: We Accept All the Risk
Post Settlement funding is a non-recourse transaction. This means you don't need to worry about what might happen if the defendant suddenly can't pay your settlement award — we accept all risk of non-payment, meaning that you will still get to keep the money from your settlement advance if the defendant goes bankrupt or is unable to pay for whatever reason.
Fast, Hassle-Free Application
In most cases, we can get money in your hands in one week or less. Our application is simple, straightforward, and easy to complete. Remember, this isn't a loan, so there isn't as much paperwork to go through. In most cases, we can approve your application and have your money deposited into your checking account in a matter of days.
About The Authors – Balanced Bridge Funding
Balanced Bridge Funding offers legal funding solutions for plaintiffs, plaintiff attorneys, attorneys, and law firms. To talk to one of our legal funding specialists about getting help managing your law firm cash flow, please call (267) 457-4540 or email info@balancedbridge.com. Or to apply online, simply CLICK HERE and fill out our quick and easy application.