Targeting Young People with Their Advertising, Making Unproven Claims, Among Allegations
May 2023 Update: Further JUUL settlements in vaping lawsuits involving Altria
Altria has agreed to pay $235 million to settle JUUL-related lawsuits, according to a recent press release. These settlements include over 8,500 injury cases and over 1,400 government entity cases, as per that release, and end almost all of the litigation at this point involving JUUL products.
Altria had previously owned a 1/3rd stake in JUUL. According to a recent Reuters article, Altria gave up that stake in March 2023 in exchange for a license to use some of the JUUL technology. However, plaintiffs sued Altria with the same accusations as against JUUL in marketing such products to young people. The Reuters article stated that plaintiffs alleged Altria helped the JUUL strategy by allowing JUUL to utilize its sales force and place JUUL products next to Altria on store shelves.
Other news indicates that the Altria settlement does not apply to certain cases, including a few brought by attorneys general and some Native American tribes.
---
Balanced Bridge provides post settlement advances. We can help when an agreement has been reached but there will be a delay until distribution of attorney contingency fees and plaintiff awards. This includes JUUL cases.
If you are an attorney waiting on JUUL contingency fees, learn more about attorney post settlement funding.
If you a plaintiff waiting on a JUUL settlement award, learn more about plaintiff post settlement funding.
---
E-Cigarette Maker Juul to Pay Over a Billion in Lawsuit Settlement across 10,000 lawsuits in the United States alleging that their e-cigarette products have created a youth vaping epidemic. This is on top of the $438.5 million JUUL had already agreed to pay in September of 2022 in a lawsuit brought by thirty-three states against the e-cigarette maker for targeting young people in their advertising. Plaintiffs in these various lawsuits include individuals, families, school districts, local municipalities, and some Native American Tribes.
https://www.bloomberg.com/news/articles/2022-12-09/juul-to-pay-1-2-billion-in-youth-vaping-settlement?leadSource=uverify%20wall
What is the Issue with JUUL E-Cigarettes?
The main issue that has JUUL in hot water is their marketing to young people. According to a Wall Street Journal Article the use of e-cigarettes among young people (between middle school and high school age) between 2017 and 2018 rose 78%. The same article indicates that nearly one out of every five high school students are using nicotine products in the form of e-cigarettes or vaping.
Not only that, in the same period (2017-2018), the number of U.S. middle schoolers using e-cigarettes rose 48% to 570,000, or 4.9% of that overall student population.
What the CDC website has to say about JUUL products?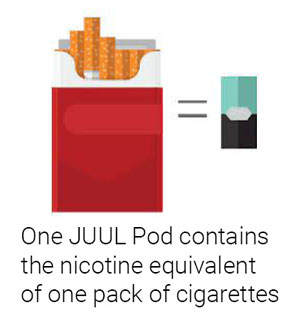 All JUUL e-cigarettes have a high level of nicotine. According to the manufacturer, a single JUUL pod contains as much nicotine as a pack of 20 regular cigarettes.
JUUL is one of a few e-cigarettes that use nicotine salts, which allow particularly high levels of nicotine to be inhaled more easily and with less irritation than the free-base nicotine that has traditionally been used in tobacco products, including e-cigarettes.
News outlets and social media sites report widespread use of JUUL by students in schools, including classrooms and bathrooms.
Approximately two-thirds of JUUL users aged 15-24 do not know that JUUL always contains nicotine.
Although JUUL is currently the top-selling e-cigarette brand in the United States, other companies sell e-cigarettes that look like USB flash drives. Examples include the MarkTen Elite, a nicotine delivery device, and the PAX Era, a marijuana delivery device that looks like JUUL.
Source: https://www.cdc.gov/tobacco/basic_information/e-cigarettes/Quick-Facts-on-the-Risks-of-E-cigarettes-for-Kids-Teens-and-Young-Adults.html
Here are some of the ads we found online promoting JUUL e-cigarettes – take note of the colors used, and the ages of the people in the ads: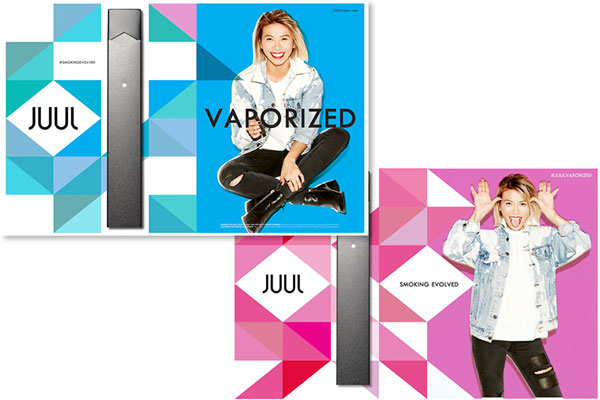 Photo source: https://www.mass.gov/doc/juul-complaint/download
But maybe you think the young people depicted in these ads are "not exactly teens or middle schoolers." But these images are just the tip of the iceberg when it comes to damning evidence about JUUL's advertising practices.
According to an article published by the New York Times, JUUL bought advertising for their products that appeared on The Cartoon Network, Nickelodeon, and Seventeen Magazine.
They also promoted their products on youth educational websites like:
Mathematics.com
Coolmath.com
Math-aids.com
Mathplayground.com
Mathway.com
Onlinemathlearning.com
Purplemath.com
And they promoted their products on websites for young girls:
Socialstudiesforkids.com
Dailydressupgames.com
Didigames.com
Forhergames.com
Games2girls.com
Girlgames.com
Girlsgogames.com
And they promoted their products on websites for young children:
Allfreekidcrafts.com
Hellokids.com
Kidsgameheros.com
Source: https://www.nytimes.com/2020/02/12/health/juul-vaping-lawsuit.html
And these are just some of the issues that got JUUL e-cigarette maker in trouble, which has resulted in multiple class action suits brought by individuals, municipalities, educational institutions, and Native American Tribes.
Was it Just Targeting Young People That Got JUUL into Trouble?
Unfortunately for the public, it is not. After years of warnings, the FDA finally banned the sale and marketing of all JUUL products in the United States for claiming their products are a safe alternative to Tobacco use, without providing any scientific data to back up their claims. As of 2023, JUUL's woes with the FDA are ongoing and have not been resolved.
A Brief History of JUUL E-Cigarette Manufacturer
2015 – JUUL labs was formed by two Stanford University Graduate Students (Adam Bowen and James Monsees) in 2015, after selling a company (Ploom) and changing the name to Pax Labs. According to Wikipedia, the JUUL E-cigarette was introduced by Pax Labs that same year.
By 2017, JUUL E-cigarettes controlled almost 30% of all e-cigarette sales in the United States, giving it the largest share of e-cigarette sales.
Source: https://www.ncbi.nlm.nih.gov/pmc/articles/PMC6233837/
Also by 2017, the rise of JUUL among younger users had grabbed the attention of regulators in California as well as the organization Tobacco Free Kids, who saw the rapid rise in e-cigarettes targeting young people as a deliberate ploy to get kids addicted to their products.
See more here: https://www.tobaccofreekids.org/assets/images/content/JUUL_Presentation.pdf
July 2018 – Altria, the largest tobacco manufacturer in the world purchased a 35% stake in JUUL Labs for $12.8 billion dollars, alarming regulators and organizations like Tobacco Free Kids who saw the dangers of such a union.
Source: https://www.cnbc.com/2018/12/20/altria-takes-stake-in-juul-a-pivotal-moment-for-the-e-cigarette-maker.html
September 2019 – FDA Sends a Warning Letter to JUUL
In September of 2019, the FDA sent JUUL e-cigarette maker a warning letter, informing them that their claim to be a safe alternative to tobacco must be demonstrated using scientific evidence that their product poses less risk or is less harmful than tobacco.
Source: https://www.fda.gov/news-events/press-announcements/fda-warns-juul-labs-marketing-unauthorized-modified-risk-tobacco-products-including-outreach-youth
June 2022 – FDA Bans the Sale or Marketing of JUUL products in the United States
In early June of 2022, after years of repeated warnings, the FDA banned the sale of JUUL E-cigarettes in the United States for failing to provide sufficient evidence that their products were safe to use.
But by the end of the month, June 24, 2022, JUUL filed for, and was granted relief from the FDA's ban by the US Court of Appeals in the District of Columbia.
The ruling reads as follows:
The purpose of this administrative stay is to give the court sufficient opportunity to consider petitioner's forthcoming emergency motion for stay pending court review and should not be construed in any way as a ruling on the merits of that motion.

Source: https://www.cadc.uscourts.gov/internet/orders.nsf/2F53EFA213FA84D78525886B00702225/$file/22-1123LDSN.pdf
The History of the JUUL E-Cigarette Lawsuits
Massachusetts was the first state to file a lawsuit against JUUL, launching an instigation into JUUL E-Cigarette maker in July of 2018. That lawsuit offered some of the publics first looks into JUUL's marketing plan, which included deliberately using images and advertising that appealed to young people. The lawsuit also showed that JUUL shipped e-cigarettes to underage youths who purchased their products from the JUUL website.
Source: https://www.mass.gov/lists/attorney-generals-office-lawsuit-against-juul
To see some of the images of the young people depicted in JUUL's advertising, visit:
https://www.tobaccofreekids.org/assets/images/content/JUUL_Presentation.pdf
The lawsuit filed by the Commonwealth of Massachusetts accused JUUL of:
Willfully advertising and/or selling nicotine products to children, adolescents, and other consumers younger than the minimal egal sales age to purchase their products
"JUUL, more than any other company, bears responsibility for the fact that millions of young people nationwide are now addicted to e-cigarettes"
JUUL purchased advertising space for these images on websites frequented by underage consumers, such as teen.com and seventeen.com; recruited celebrities and social media influencers with large numbers of underage followers, such as Miley Cyrus and an 18-year-old considered to be "the internet's coolest teenager"; and promoted its youth-focused advertisements directly on social media platforms popular with underage consumers.
JUUL nevertheless sold its e-cigarettes to high school students and college students across the Commonwealth, even when they supplied dates of birth to JUUL that established they were younger than the local minimum legal sales age.
E-cigarette use is now an epidemic among adolescents. In Massachusetts, 51.2% of high school students report having tried e-cigarettes, and 32% say they have used e-cigarettes smoked conventional cigarettes in 2019. in the past 30 days. By contrast, less than six percent of high school students reported that they had smoked conventional cigarettes in 2019.
Moreover, users absorb the nicotine derived from nicotine salt far more rapidly than from freebase nicotine. As a result of the nicotine salt, the JUUL e-cigarette causes users to experience a rapid rise of nicotine levels in their bloodstream shortly after inhalation, comparable to the rate of traditional combustible cigarettes. The ultrafine particulates created by the JUUL e- cigarette almost immediately penetrate the user's arterial bloodstream, passing the blood-brain barrier into the pleasure center of the brain. This physiological experience is most often described by the user as a "head buzz" or "kick."
JUUL used these programmatic media buyers to purchase space for JUUL advertisements on websites that were highly attractive to children, adolescents in middle school and high school, and underage college students. These advertisements included the images of models from the Vaporized Campaign
JUUL purchased advertisements on websites designed for young children.
JUUL purchased banner advertisements on the Cartoon Network's website at cartoonnetwork.com. This website offers children's television programs and games for children.
JUUL also purchased banner advertisements on websites providing games targeted to younger girls, such as dailydressupgames.com, didigames.com, forhergames.com, games2girls.com, girlgames.com, and girlsgogames.com
JUUL purchased banner advertisements on websites designed for teenagers, such as teen.com, seventeen.com, justjaredjr.com, and hireteen.com
Facebook and Instagram, two of the largest social media platforms, maintain policies that their platforms do not accept paid advertisement for tobacco products, including e- cigarettes such as JUUL. Beginning in 2015, however, JUUL circumvented these restrictions by paying online publishers such as UrbanDaddy and Gawker to promote youth-oriented advertising content for JUUL through their social media accounts on Instagram, Facebook, and YouTube.
In the summer of 2017, JUUL engaged a company called Tower Data to determine the ages of the persons associated with email addresses on its email marketing list.
According to this analysis, approximately 269,000 email addresses on JUUL's email marketing list were not associated with a record of an individual who had "passed" JUUL's age verification process.
Additionally, approximately 40,000 email addresses on JUUL's email marketing list were associated with records of individuals who had "failed" JUUL's own age verification process. Tower Data informed JUUL that 83% of the approximately 420,000 email addresses on JUUL's marketing list could not be matched with the record of an individual at least eighteen years of age.
JUUL nevertheless continued to send marketing emails to this list for a full year, until August 2018, even though it knew that a substantial majority of those on the list had not passed its own age verification process or had failed its age verification process.
JUUL sold e-cigarettes in multiple flavors, including mango, fruit medley, crème brulee, coco mint, cool mint, menthol, and cool cucumber. Until 2018, JUUL marketed these flavors with nonstandard spellings, including "miint," "fruut," and "brulee.
JUUL marketed its flavored e-cigarettes using advertising content that made using flavored e-cigarettes appear cool and fun. These advertisements often made no mention of nicotine.
JUUL knew that its flavored products are especially popular with children and adolescents.
Source: https://www.mass.gov/doc/juul-complaint/download
October 2, 2019 – by 2019 there were a lot of class action lawsuits pilling up against JUUL, so an MDL was created by the Federal Court to handle all federal lawsuit being brought against JUUL. The United States Judicial Panel on Multidistrict Litigation issued an order under 28 U.S.C. § 1407 transferring cases to the Northern District of California for coordinated or consolidated pretrial proceedings before Judge William H. Orrick.
The actions in this MDL involve allegations that Juul Labs, Inc. (JLI) has marketed its JUUL nicotine delivery products in a manner designed to attract minors, that JLI's marketing misrepresents or omits that JUUL products are more potent and addictive than cigarettes, that JUUL products are defective and unreasonably dangerous due to their attractiveness to minors, and that JLI promotes nicotine addiction. The actions include putative class actions, actions on behalf of school districts and other governmental entities, and individual personal injury cases.
Source: https://www.cand.uscourts.gov/judges/orrick-william-h-who/in-re-juul-labs-inc-marketing-sales-practices-products-liability-litigation/
By 2022, thirty states, let by Connecticut Attorney General William Tong, had filed lawsuits against the e-cigarette maker (JUUL), and in September of 2022, JUUL agreed to pay $438.5 Million in a settlement.
Attorney General Tong said, "They relentlessly marketed vaping products to underage youth, manipulated their chemical composition to be palatable to inexperienced users, employed an inadequate age verification process, and misled consumers about the nicotine content and addictiveness of its products. The full public health ramifications of this misconduct are yet unknown. Through this settlement, we have secured hundreds of millions of dollars to help reduce nicotine use and forced JUUL to accept a series of strict injunctive terms to end youth marketing and crack down on underage sales."

https://www.wsj.com/articles/juul-to-pay-438-5-million-to-settle-probe-over-underage-use-11662484340?mod=e2tw
That settlement entailed an extensive list of specific behaviors JUUL must avoid in the future. Specifically, the restrictions are intended to prevent the e-cigarette maker from advertising their products in ANY WAY to young people.
As an example, JUUL agreed in the settlement to never use any image in its advertising showing a person who appears to be "under 35" years of age.
Source: https://www.wsj.com/articles/juul-to-pay-438-5-million-to-settle-probe-over-underage-use-11662484340?mod=e2tw
According to the Connecticut Website portal.ct.gov, JUUL has agreed to refrain from:
Youth marketing
Funding education programs
Depicting persons under age 35 in any marketing
Use of cartoons
Paid product placement
Sale of brand name merchandise
Sale of flavors not approved by FDA
Allowing access to websites without age verification on landing page
Representations about nicotine not approved by FDA
Misleading representations about nicotine content
Sponsorships/naming rights
Advertising in outlets unless 85 percent audience is adult
Advertising on billboards
Public transportation advertising
Social media advertising (other than testimonials by individuals over the age of 35, with no health claims)
Use of paid influencers
Direct-to-consumer ads unless age-verified, and
Free samples.
The agreement also includes sales and distribution restrictions, including where the product may be displayed/accessed in stores, online sales limits, retail sales limits, age verification on all sales, and a retail compliance check protocol. Source: https://portal.ct.gov/AG/Press-Releases/2022-Press-Releases/AG-Tong-Leads-Multistate-Agreement-With-JUUL-Labs
In January 2023, U.S. District Judge William Orrick in San Francisco approved a $255 million settlement resolving the class action alleging the company deceptively marketed the product, downplaying addiction and marketed to minors. Source: https://www.forbes.com/advisor/legal/product-liability/juul-lawsuit-update/
In March 2023, Altria, the parent company of Marlboro, sold its ownership stake in JUUL which they originally bought for around $13 billion. The value of JUUL has now dropped significantly to around $250,000. Atria has instead purchased a stake in a new company, NJOY. NJOY is apparently the only company with FDA approval for their e-cigarette products. Source: https://www.wsj.com/articles/altria-to-buy-vaping-startup-njoy-for-at-least-2-75-billion-d6c7b1ca
April 2023 – Altria, one of the largest tobacco manufacturers in the world, has their first class action trial is scheduled to begin April 17, 2023. Altria, owner of Philip Morris USA and Marlboro cigarettes, took a 35% stake in JUUL Labs, and as one of their largest investors, now faces a class action suit of their own. Pretrial hearing is scheduled for March 2023. Source: https://www.law.com/therecorder/2022/12/16/with-juul-settled-philip-morris-parent-altria-goes-solo-in-e-cigarette-trial/?slreturn=20230110134701
JUUL Lawsuit Plaintiffs Will Wait Six to Ten Years to Receive Their Funds
We don't know the final details yet, but we do know that as part of the settlement agreement for the first settlement (Sep 2022) amount of $438.5 million dollars JUUL must pay, plaintiffs may have to wait six or even ten years to receive their money.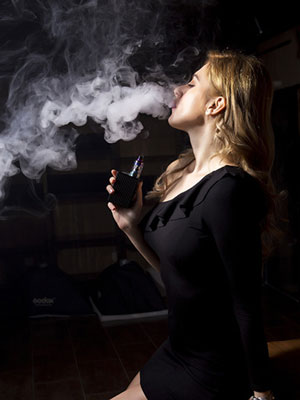 This waiting period isn't uncommon in class action suit settlements. Unfortunately, when you win a lawsuit, or the defendant settles, there isn't someone waiting in the lobby with a check for everyone who was harmed by the defendant. Nor do the lawyers or plaintiffs get their money in thirty or sixty days. Depending on the size of the award, and the ability of the defendant to pay, it can often take years for plaintiffs (and their attorneys) to receive their money.
Even when a defendant clearly has the financial means to pay, (like the USC class action settlement for sexual assault victims where the defendant literally has BILLIONS of dollars available to them) they are often given a certain timeframe to pay what they owe. The courts do not typically order payment terms that would cause a company to close due to the financial burden imposed by losing a lawsuit. Oddly enough though, in recent years, companies have begun trying to use bankruptcy protection to AVOID lawsuit settlements, but the courts have not been sympathetic to these requests (as seen in the recent 3M earplug class action lawsuits).
How Long Does it Take to Get Paid from a Class Action Lawsuit like the JUUL Class Action Lawsuit?
This is not always an easy question to answer. If you look online, some estimates indicate you should expect to receive a settlement check from a class action lawsuit in six to eight months, but in our experience, this is rarely the case.
The truth is, the time it takes to pay out depends a great deal on the size of the settlement and the ability of the defendant to pay and how the payment terms are negotiated.
It also depends on the type of entity: as an example, if you won a class action lawsuit against certain government entities or municipalities, it could take decades to receive a payment as many government entities are allowed to prioritize who they pay and when. The court can't bankrupt a city to pay lawsuit settlements as this could hamper the city's ability to maintain operations for its citizens.
If you want to learn more about how long it takes to get paid from a class action lawsuit, we wrote an entire in-depth article about the subject you can find here: /how-long-does-it-take-to-get-a-settlement-check-from-a-class-action-lawsuit/
How to Get Money While You Wait to Receive a Settlement Check from a Class Action Lawsuit
But what if you are involved in a class action lawsuit like the ones being brought against JUUL and you need to get some of your money right away?
It is possible once a class action lawsuit concludes to get some of your money right away. This option is called a post-settlement advance, or settlement advance, or cash advance on lawsuit settlement, and it is available to plaintiffs and plaintiff attorneys.
A lot of things can happen in a person's life while they are waiting for a check from a class action lawsuit settlement. You could have medical bills piling up. You may need counseling or medication to help you overcome addiction to e-cigarettes like the ones sold by JUUL or other e-cigarette manufacturers. You may need to relocate. All kinds of things can happen because typically class action lawsuits drag on for years, and then once they settle, as you can see from the JUUL lawsuit, plaintiffs still often must wait years to receive their funds.
Get Some of Your JUUL E-Cigarette Lawsuit Settlement Money Fast
This is where post settlement funding for class action lawsuits can help. If you are part of a class action lawsuit like the JUUL class action lawsuit, and the case has been settled, and you are just waiting to receive your funds, you may be able to work with a company like Balanced Bridge Funding and get some of your money right away (for a fee).
How a Settlement Advance for Class Action Lawsuits Works
Let us explain how a settlement advance works. Let's say Mary is going to receive $100,000 as part of a class action lawsuit settlement at some point, but she wants to take out a settlement advance now on part of the $100,000.

This is a fictitious example of how settlement funding for class action lawsuits works:
$100,000 – This is the amount Mary is owed from the class action lawsuit settlement. Distribution will be in two payments. The first payment will be in ten months. The second payment will be in 36 months. The money owed from a class action lawsuit is considered an asset (like a stock or bond) and it can be sold to someone else for an agreed price.
$50,000 – This is the amount of settlement advance Mary wants to receive and use now.
$45,000 – This is the amount of money that Mary receives right away from Balanced Bridge Funding because she agrees to sell $50,000 of her class action lawsuit settlement to Balanced Bridge Funding for the price of $45,000. Balanced Bridge Funding now owns the right to $50,000 of Mary's class action lawsuit settlement. Essentially, Balanced Bridge gets paid to wait for the settlement money to be distributed.
$5,000 – This is the amount of money Balanced Bridge Funding makes for advancing Mary
$45,000 – Balanced Bridge Funding bought the asset from Mary for $45,000 and will receive
$50,000 – from the settlement attorney of record when the settlement is paid in ten months, earning Balanced Bridge Funding $5,000.
To recap:
$45,000 Advance Mary received from Balanced Bridge Funding
+ $50,000 Mary will receive when the settlement finally pays out
= $95,000 This is the total amount Mary will receive from the class action lawsuit
NOTE: This information is a fictional example for the purpose of explaining how post settlement funding for class action lawsuits works and does not reflect the rates or fees charged for post settlement funding as each case is different.
Is Post Settlement Funding a Loan?
Post Settlement Funding is NOT a Loan. If you look at the infographic above or the explanation below it, you will see that the Post Settlement Legal Funding Company isn't loaning you money against your settlement award. Instead, they are purchasing it from you and then they get their money from the attorney of record handling the distribution of funds from the case. The terms might seem semantical, but they matter.
Some states have passed bills just to specify that Post Settlement Funding does not in any way meet the criteria of a loan and cannot be called a loan. Example: In 2020, Utah passed HB 312 which specifically states post settlement funding does not meet the definition of a loan or credit.
Unlike a loan, post settlement funding does not have monthly or interim payments to a lender. When your case finally pays out, your obligor pays Balanced Bridge Funding directly.
How Do I Know if I Qualify for a Post Settlement Advance on my JUUL Class Action Lawsuit?
Depending on whether you are a plaintiff (individual), attorney on the case waiting on contingency fees, or a government, entity, or municipality will all factor into whether you qualify for a settlement advance on your JUUL Class Action Lawsuit Settlement.
The best thing to do is to go ahead and start an application process and let one of our underwriters tell you for sure if you qualify. It is easy to apply and won't impact your credit.
Summary E-Cigarette Market JUUL to Pay Over a Billion in Lawsuit Settlements
One thing we can say with confidence is that e-cigarette maker JUUL's troubles are not over. More class action lawsuits are cropping up in 2023, and even once the MDL concludes, individuals may be bringing cases against JUUL for many years to come. Plus, JUUL's one-time biggest investor, Altria, has class action lawsuits just beginning from their involvement in JUUL as their largest investor.
Plus, the FDA ban on all sales and marketing of JUUL products in the United States remains in place. Though an appeals court has granted a temporary stay of that order to gather administrative information, chances are, that ban will go back into effect eventually. The FDA problem isn't going to just "go away" for JUUL.
Though JUUL has never admitted wrongdoing in their settlements, the evidence the states and Native American Tribes have collected against JUUL are damning. And regardless of whether they admit wrongdoing or not, the evidence the young people in America have been participating in the use of E-cigarettes and Vaping is undeniable. Youths who when polled said they had never and would never try tobacco products, had no qualms whatsoever about their use of vaping or e-cigarettes which are loaded with Nicotine, a highly addictive substance. JUUL, having once dominated the e-cigarette market, can hardly deny they played a key role in these numbers (though they do).
As of the writing of this article, JUUL has agreed to pay well over a billion dollars in settlements, and the class action lawsuit settlements are just beginning. How many billions will JUUL end up paying over the next twenty years as the result of their business practices? Only time will tell what the final price tag will be.
More About Post Settlement Funding From Balanced Bridge Funding
Does Balanced Bridge Funding offer Pre-Settlement Funding as well as Post Settlement Funding?
Balanced Bridge does not offer pre-settlement funding solutions for Attorneys and plaintiffs at this time. We do offer post settlement funding; meaning, once your case has settled or concluded, and you are owed a settlement, we can offer you a settlement advance (if you qualify). But no, we do not offer pre-settlement funding options at this time.
Post Settlement Funding is a Non-Recourse Transaction: We Accept All the Risk 
Class Action Lawsuit funding is a non-recourse transaction. This means you don't need to worry about what might happen if the defendant suddenly can't pay your settlement award — we accept all risk of non-payment, meaning that you will still get to keep the money from your settlement advance if the defendant goes bankrupt or is unable to pay for whatever reason.
Fast, Hassle Free Application 
In most cases we can get your money in your hands in one week or less. Our application is simple, straightforward, and easy to complete. Remember, this isn't a loan, so there isn't as much paperwork to go through. In most cases, we can approve your application and have your money deposited into your checking account in a matter of days.
If you think Post Settlement Funding could be the right fit for you, please call one of our Post Settlement Funding specialists at 267-457-4540.  
Or to apply online, simply CLICK HERE and fill out our quick form application.
About the Authors
Balanced Bridge Funding offers legal funding solutions for plaintiffs, plaintiff attorneys, attorneys, and law firms. To talk to one of our legal funding specialists about post settlement funding for plaintiffs or post settlement funding for attorneys, please call (267) 457-4540 or email: info@balancedbridge.com