NFL players are people too, and moving to a new team also means relocation to a new city and all of the expenses it entails.
NFL Free Agency Begins March 13th, 2023 and we have already seen a flurry of activity in the news and can expect more to come over the next few days.
Though there are always some trade rumors, there are a few trades that seem nearly certain, including Green Bay Packers famous quarterback, Aaron Rodgers, and Tennessee Titans quarterback, Ryan Tannehill just to name a few big names.
But these are just a few of the trades that have made headlines over the last few days. As the NFL League year ends, and the new year begins, there are a lot of teams struggling to meet salary caps, and that means trades are sure to ensue as teams look to create room in their budgets.
The NFL Free Agency period is an exciting time for fans and players alike. It provides a unique opportunity for unrepresented players to find the best fit for their careers and offers teams the chance to make their rosters even more competitive. Be sure to stay up-to-date on all the news and rumors, as this is always an interesting period in NFL history.
What is the NFL Free Agency Period
When the NFL League Year starts precisely at 4 p.m. ET on March 15, 2023. This will also mark the commencement of the free agency period for all teams.
During the two-day "Negotiating Period" prior to the commencement of free agency in 2023 (from 12 pm EST on March 13 until 4 pm EST on March 15) teams are granted permission to converse with agents representing soon-to-be unrestricted free agents. It's worth noting that self-represented players ("Unrepresented Players") can also chat with members of team front offices during this time, an action which was previously not permissible. During this time, however, team spending is restricted by a set salary cap of $224.8 million per club for that particular year (2023).
What is the NFL Salary Cap?
It is the total amount of money that each NFL team can spend on players' salaries for a given season. Each year, this cap increases slightly as part of an agreement between the NFL and its players' association (NFLPA). Generally speaking, teams cannot exceed the salary cap when signing free agents or extending contracts with their own players. The NFL Salary Cap for 2023 is $224.8 million per team.
As the league year switches to a new season, this is when teams can officially sign players to their rosters, as well as complete trades that were previously under negotiation. With this process in motion, it signifies a new era of football with an array of possibilities waiting to unfold.
How Many Free Agents Will be Traded in 2023?
It is impossible to tell who or how many players will be traded in any given year, but on the NFL website, they have a list of the top 101 free agents for 2023 listed here: https://www.nfl.com/news/top-101-nfl-free-agents-of-2023-who-are-the-best-players-available
What Does It Mean to be an NFL "Free Agent"?
Being a free agent in the NFL means that a player is not signed to any team and is thus able to enter negotiations and sign with any team. Free agents can be released by their current team or choose to become unrestricted free agents when their contracts expire. Once a player becomes an unrestricted free agent, they can negotiate with any team without restrictions.
A player becomes a free agent in the NFL when his contract with his current team ends. This could be due to being released, having their contract expire, or having a mutual option between the player and the team not exercised. The player then enters the free agency period where they can sign with any team.
Options Period Ends March 15th
Clubs must exercise options for 2023 on all players who have option clauses in their 2022 contracts by 4pm (New York Time) on March 15th.
An option clause in an NFL contract is a clause that gives the team the option to extend, or "pick up," a player's contract for another year. This means that if a player has an option clause in their contract, the team can decide whether to pick up the option for another year before the start of the new season. The option clause also outlines how much money will be paid out to the player if they are picked up for another year.
Noteworthy Dates and Times for NFL Trades and NFL Free Agency Period
March 13 – Free Agency Period Begins, Allowing Negotiations to Start.
According to the NFL Website, during the period beginning at 12:00 noon, New York time, on March 13 and ending at 3:59:59 p.m., New York time, on March 15, clubs are permitted to contact and enter into contract negotiations with, the certified agents of players who will become Unrestricted Free Agents upon the expiration of their 2022 Player Contracts at 4:00 p.m., New York time, on March 15.
During the above two-day negotiating period, a prospective UFA who is not represented by an NFLPA Certified Contract Advisor is permitted to communicate directly with a new club's front office officials (excluding the Head Coach and other members of the club's coaching staff) regarding contract negotiations.
No prospective Unrestricted Free Agent is permitted to execute a contract with a new club until 4:00 p.m., New York time, on March 15.
March 15 – End of the year and beginning of the new year for the NFL League – and – Trading officially begins
Prior to 4:00 p.m., New York time, clubs must exercise options for 2023 on all players who have option clauses in their 2022 contracts.
Prior to 4:00 p.m., New York time, clubs must submit Qualifying Offers to their Restricted Free Agents with expiring contracts to retain a Right of First Refusal/Compensation.
Prior to 4:00 p.m., New York time, clubs must submit a Minimum Salary Tender to retain exclusive negotiating rights to their players with expiring 2022 contracts who have fewer than three Accrued Seasons of free agency credit.
Source: https://operations.nfl.com/gameday/nfl-schedule/2023-important-nfl-dates/
What Happens to NFL Players Who Are Traded or Sign New Contracts with a Different Team?
One thing people don't often realize is that NFL players are also just people. They have homes, kids, spouses, and routines in the city they live in. But once an NFL player has been traded, they don't just switch over to new coaches and team mates, they also have to move.
There are leases, and new schools and new contracts to sign. There are new areas of a new city to learn about, and there are even new weather patterns. Imagine being traded from the Miami Dolphins to the Green Bay Packers – talk about a culture shock!
Not only that, but NFL players can end up having to try and sell a house in a down economy in their former team's city while having to pay rent in places like New York City or San Francisco.
Plus, NFL players will not begin receiving their 2024 salaries until September. During training camps and workouts, they are paid a tiny stipend that often amounts to less than $1,200 per week for rookies and $2,500 per week for veterans. Try traveling and also finding a decent hotel for $1,200 per week!
This often leaves them covering their expenses for relocation out of pocket with whatever savings they have at the time.
NFL Contract Advances Help Cover Costs and Finance Major Purchases
Many NFL players have started taking advantage of NFL contract advances to help cover the cost of moving, renting a new place, or buying a new house.
Once they have a new contract in place, players can work with Balanced Bridge Funding to take out an advance on their future cash flows.
Players signing new contracts during the NFL Free Agency Period often use Balanced Bridge to finance a portion or 100% of a new home purchase.
How Do NFL Contract Advances Work?
There are many types of athlete funding, but one of the most common is called a contract advance. A contract advance is when an athlete takes out an advance on money they are owed from their future contract.
NFL Signing Bonus Advances
Athletes can also take out an advance on their signing bonus. The way signing bonus advances work is, companies like Balanced Bridge Funding purchase a portion of your signing bonus for a fee, and then when the team pays the signing bonus, the team pays the finance company (Balanced Bridge Funding in this case) what they are owed, and then the team pays you the remainder of what you are owed.
NFL Rookies often use a signing bonus advance to help fund travel for themselves and their families to their new city. Veteran athletes can use them as well to finance business opportunities as they arise and to purchase new homes, or other investments.
To Apply for a Contract Advance – Click Here
More Details about NFL Contract Advances from Balanced Bridge Funding
How Much Money Can I Borrow Against My Contract?
If you work with Balanced Bridge Funding, we can generally fund up to five million dollars against your contract – or – as little as $25,000. A lot of this depends on the size of your contract, and how much of a contract advance you can take out.
How Long Does It Take To Get Approved For an NFL Contract Advance Loan?
This is the best part. You can be approved and have your money from a contract advance in a matter of days. You simply provide the documentation we need, sign your agreement, and we send you the money right away. It is easier than you can imagine.
Why Wouldn't I Just Borrow the Money from a Bank Instead of Using a Contract Advance?
One of the reasons you might work with an athlete funding company like Balanced Bridge Funding is because we have different lending standards than banks as far as professional athletes go. We work with athletes, so we know how the payment system works and we see future athlete earnings as great collateral. It isn't that we are any different from a bank – we just have different lending standards that are favorable to professional athletes.
Is Balanced Bridge Funding Just a "Middle Man" or a Broker?
No, Balanced Bridge Funding is a direct lender. We are not a broker for some other company that loans the money. This is important because if there are any issues with your loan approval or after the loan is made, you are dealing directly with the source of your loan instead of a broker who has no real say in any part of the process.
How Does a Contract Advance Work?
A contract advance is simple. You send us some paperwork showing the value of your upcoming contract, we negotiate how much of a contract advance you want to take out, we agree on conditions, you sign our agreement and within a few days, you will have the cash in your bank account.
Just Click Here to Apply to Get Started
Case Study: Buying a New House with Contract Advance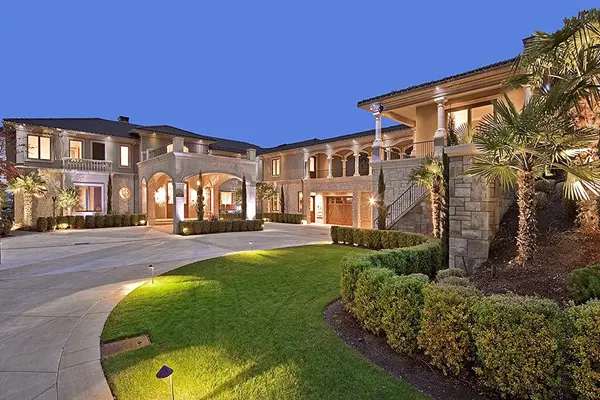 The Request
We received a request to secure real estate financing on a $5.3 million home for an NBA Player who had just signed a $40 million contract.
The Challenge
The Player, with limited credit history, limited cash reserves relative to the purchase price, and insufficient tax returns to satisfy the mortgage underwriting requirements, had to put a significant amount of money down to qualify for the mortgage; but they were not going to receive their money for several months (until camp started up).
What We Did
We were able to provide this client with a contract advance for 104% of the purchase price including all closing costs and fees.
The client ultimately saved 8% by doing a cash purchase of the home. The Player was not required to use his own funds for a down payment, and he closed on the home loan in 7 days.
About Balanced Bridge Funding
Balanced Bridge Funding provides funding for professional athletes from the NBA, NFL, NHL, MLB, American Soccer League, and even referees and coaches from all of the major leagues. If you are an athlete with a guaranteed contract, chances are we can fund a contract advance for you, and have your money to you quickly.