Everything you need to know about the CPAP Lawsuit as of 2023
Sept. 2023 Update – Philips announces economic loss settlement to resolve claims.
Back in the spring, Philips had set aside $615 million, as per a financial statement, in the hopes of settling economic loss claims in the near future related to their CPAP and BiPAP machines and devices.
This month, Philips and the plaintiff lawyers involved in the lawsuits announced a settlement in principle for those claims.
According to reports, Philips will pay at least $479 million into a settlement fund. Payment awards range from $55 to 1,552, with another $100 for each device returned to the company and additional compensation for any replacement devices that anyone needs.
The MDL judge in the case, the Honorable Joy Flowers Conti, preliminarily approved the settlement in a Sept. 7, 2023 filing. The MDL case is Philips Recalled CPAP, Bi-Level PAP, and Mechnical Ventilator Products Liability Litigation. A final approval hearing is scheduled for Oct. 10, 2023.
A website has been set up with information and will eventually be a place for eligible claimants to seek compensation from the settlement. As of right now, according to CBS news, Philips customers will be able to sign up for emails to get update alerts. Plaintiffs are not able to file any claims at this time.
While this recent settlement handles the economic loss claims, there are still injury claims pending within the MDL that are excluded from this agreement. Plaintiff lawyers have said they will continue to work on those claims for plaintiffs going forward and are hopeful to reach some resolution on that in the future.
---
Philips CPAP Lawsuit – Philips is in hot water over their CPAP and BiPAP machines. CPAP devices, such as those manufactured by Philips Respironics, are often used to treat sleep apnea. Sleep apnea, a condition where the person stops breathing for ten seconds or more at a time, affects up to 18 million Americans and up to an estimate 936 million people world wide.
Sleep apnea is a major health concern. According to the National Commission on Sleep Disorders Research, approximately 38,000 deaths occur on an annual basis that relate to cardiovascular problems that in one way, or another are connected to sleep apnea.
More recent studies show that ongoing sleep apnea also causes brain damage to sufferers by interrupting their deep sleep which has also been associated with Alzheimer's and dementia.
As you can imagine, because of the large number of sleep apnea cases in the United States, there are also a lot of people using CPAP machines. As many as 8 million Americans use CPAP Machines.
Source: https://www.forbes.com/sites/danieldambrosio/2018/12/21/healthcare-startup-grows-2805-percent-in-7-years-with-cpap-sanitizer/?sh=210eff315cfb
Unfortunately, certain faulty CPAP machines have been known to release PE-PUR foam particles into the air during normal operation. Ingestion of these particles can lead to serious health hazards for patients using the device.
In recent years, a number of CPAP (Continuous Positive Airway Pressure) machine lawsuits and recalls have been filed against various manufacturers. These suits allege that the equipment is defective and dangerous to use, while some recall notices are issued due to potential health risks posed by the machines.
One of the most notable CPAP machine recalls was issued by Philips Respironics in 2020 with more recalls following in recent years. In 2020, the company recalled their DreamWear and Sleep CPAP machines due to a possible risk of electrical shock from the device. The recall affected over 120,000 machines in the U.S. and around the world.
More recently, in 2022 and continuing into 2023, lawsuits have begun over the potential health hazards related to the type of foam used in Philips CPAP Machines which can be inhaled or ingested and serious cause health problems for users. There are so many lawsuits pending that the cases have been consolidated into an MDL (Multidistrict Litigation) forum so the courts can handle the ever growing number of cases brought by various law firms who represent their client in CPAP Lawsuits.
Philips is not alone when it comes to problems with CPAP machines and worldwide recalls. Other companies have also been affected by lawsuits and recalls. ResMed recently settled a lawsuit related to their anti-asphyxia feature on certain machines, while Fisher & Paykel had their sleep therapy machines recalled due to a potential fire hazard.
With the increasing number of lawsuits and recalls, it is important for consumers to be aware of the potential risks associated with CPAP machines and take any necessary precautions. Consumers should consult their doctors or healthcare providers before using a CPAP machine, as well as regularly check for any recall notices from manufacturers. By staying informed and taking proper safety measures, individuals can ensure they are using the safest and most reliable machines on the market.
What Health Hazards are Attributed to Ingesting or Inhaling PE-PUR Foam?
Inhaling the PE-PUR foam particles can lead to serious respiratory issues, including shortness of breath, coughing and wheezing. In extreme cases, these particles could even cause lung damage or other severe health complications. If you have been using a CPAP machine and experience any of the aforementioned symptoms, it is important to seek medical attention immediately.
It is always important to be aware of any potential health risks associated with medical devices, such as CPAP machines. Patients should seek out information on any potential recalls or lawsuits related to their devices. Taking these precautions can help prevent serious health risks associated with CPAP device use.
In the end, understanding potential risks associated with medical devices and taking appropriate steps to mitigate them is essential for patient safety. Patients should be mindful of any recalls or lawsuits involving their CPAP machines, especially those related to PE-PUR foam particle ingestion. By staying informed and taking appropriate precautions, you can ensure your safety when using CPAP devices.
If you believe that you have been affected by a defective CPAP machine, it is important to speak with an attorney who is experienced in handling these types of cases. An attorney can provide advice on how best to pursue a legal claim against the manufacturer and help secure the compensation you deserve for any resulting injuries or losses.
What is The Status of the Philips CPAP Lawsuit?
In October 2021 a Multidistrict Litigation (MDL) was created to handle the volume of cases sure to come from the recalls and injuries caused by the Philips CPAP devices. But as of May 2023, there haven't been any settlements or jury verdicts yet. But some activity from Philips suggests their CEO is eager to settle these cases in 2023 or 2024.
As of May 2023, Philips faces over 400 federal lawsuits, and that number is expected to climb as high as 1,000 by the end of the year.
How much is the Philips CPAP lawsuit worth?
This isn't an easy question to answer, but you can get an idea of how much the defendant, Royal Philips thinks this litigation might cost them. In one of their calls with investors they indicate they have already set aside $630 million to settle economic damage lawsuits related to the recall of Philips CPAP machines.
Source: https://www.aboutlawsuits.com/philips-630m-to-settle-cpap-recall-lawsuits/
How much are the people getting from the CPAP lawsuit?
For CPAP lawsuits, some experts estimate the average could be least anywhere from $100,000 to $500,000 depending on how well liability and/or negligence can be proven.
Source: https://www.millerandzois.com/products-liability/medical-device-lawsuits/cpap-lawsuits/#:~:text=For%20CPAP%20cancer%20lawsuits%2C%20the,if%20liability%20can%20be%20established
Why is Philips Being Sued Over Their CPAP Machines?
The reason people are suing Philips over their CPAP Machines is because information is coming to light that indicates Philips knew about the potential health hazards associated with using PE-PUR foam in their CPAP machines and they went ahead and used it anyway and issued no warnings to potential users of the risks associated with using their devices which included PE-PUR foam.
In June 2021 Philips issued a recall on millions of their CPAP and BiPAP ventilator devices. The company acknowledged that degraded PE-PUR foam could release particles and even toxic gases that could be inhaled or swallowed during use. release black particles and toxic gasses that users may inhale or swallow. The problem is, according to the FDA, Philips knew about these health risks associated with use of their devices as early as 2015, and did nothing to warn users or the doctors who prescribed their CPAP machines.
As you can imagine, this type of behavior by a company the size of Philips has garnered a lot of attention. Over and over, we have seen companies who knew the potential harmful side effects or direct health hazards associated with using their products, and they released those products anyway, and didn't warn anyone or take any steps to mitigate potential health hazards. Often for the sole purpose of profit and nothing else.
Here is a direct quote from the FDA website:
Health Issues Philips CPAP Recall
According to the FDA – the foam (PE-PUR Foam) used in Philips CPAP Machines are a potential health risk. The PE-PUR foam used in the Philips recalled CPAP Machines can break down, and when it does it can degrade into black pieces of material that may be inhaled or swallowed why the patient sleeps.
PE-PUR foam used in the recalled Philips CPAP machines may also release chemicals (VOC's) into the air tubes and be inhaled by the user.
PE-PUR foam is used to lessen sound and vibration in these devices and other medical equipment. The PE-PUR foam used in the recalled devices may break down and can result in serious injury, cause permanent impairment, and require medical intervention to prevent permanent injury to users.
Symptoms of Exposure to PE-PUR Foam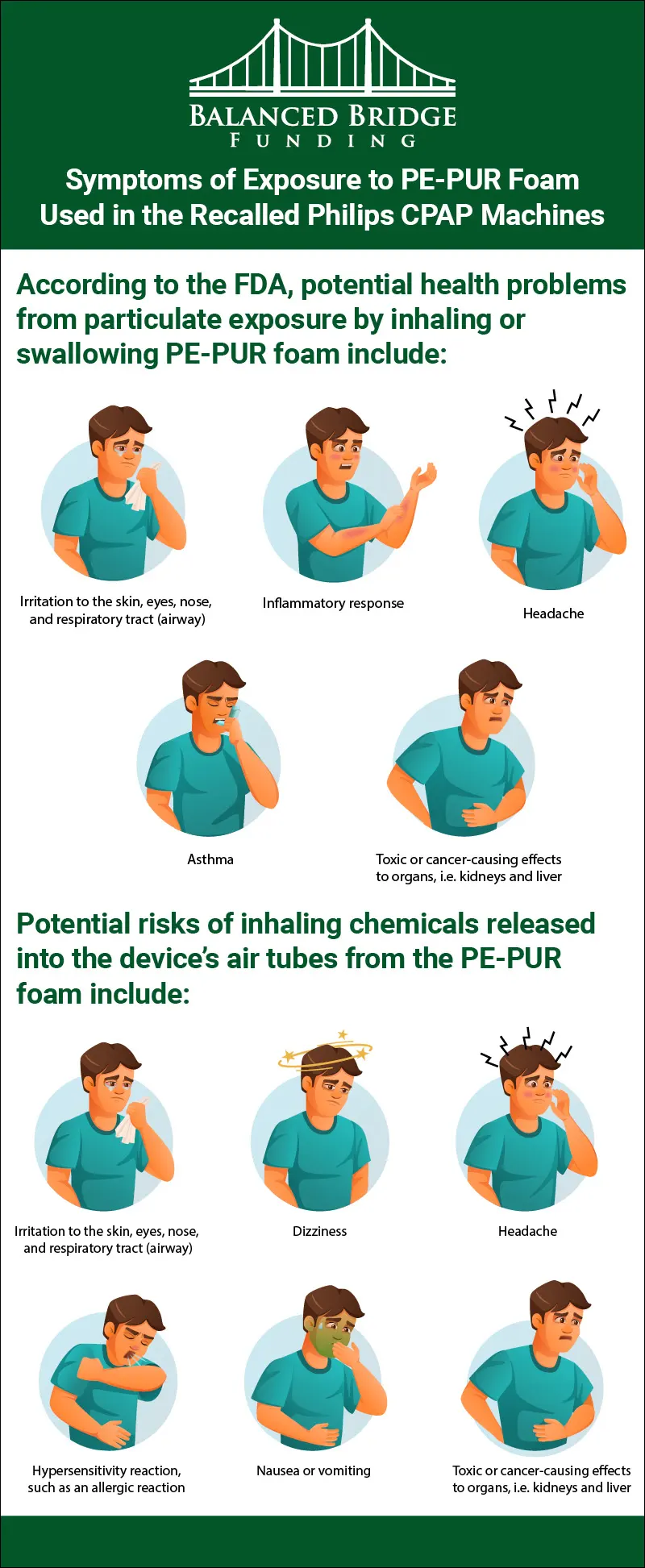 According to the FDA, Potential Health Problems from Particulate Exposure by Inhaling or Swallowing PE-PUR Foam include:
Irritation to the skin, eyes, nose, and respiratory tract (airway)
Inflammatory response
Headache
Asthma
Toxic or cancer-causing effects to organs, such as kidneys and liver
Potential risks of inhaling chemicals released into the device's air tubes from the PE-PUR foam include:
Headache
Dizziness
Irritation in the eyes, nose, respiratory tract (airway), and skin
Hypersensitivity reaction, such as an allergic reaction or another immune system reaction
Nausea or vomiting
Toxic and cancer-causing effects
Source: https://www.fda.gov/medical-devices/safety-communications/update-certain-philips-respironics-ventilators-bipap-machines-and-cpap-machines-recalled-due#risk
According the website of Saiontz & Kirk PA, lawsuits and settlements are now being brought against Philips for ailments that include:
Cancer, Leukemia, Lymphoma or other Tumors
Pulmonary Fibrosis
Interstitial Lung Disease (ILD)
Sarcoidosis
Pneumoconiosis
Auto-Immune Disorders
Chronic Bronchitis
Chronic Asthma
Recurrent Pneumonia
Hypersensitivity
Respiratory Failure
Acute Kidney Injury
Acute Liver Injury
Heart Attack
Heart Failure
Stroke
Wrongful Death
Source: https://www.youhavealawyer.com/philips-dreamstation-cpap-lawsuit/foam-side-effects/
According the website Drugwatch, the FDA has received more than 98,000 medical device reports, including 346 deaths linked to broken down PE-PUR foam in the Philips CPAP machines between April 2021 and December 31, 2022. The reports include injuries such as cancer, pneumonia, dizziness, asthma, headache, infection, cough, difficulty breathing and chest pain.
Source: https://www.drugwatch.com/philips-cpap/lawsuits/
What Philips CPAP and BiPAP Machines Have Been Recalled?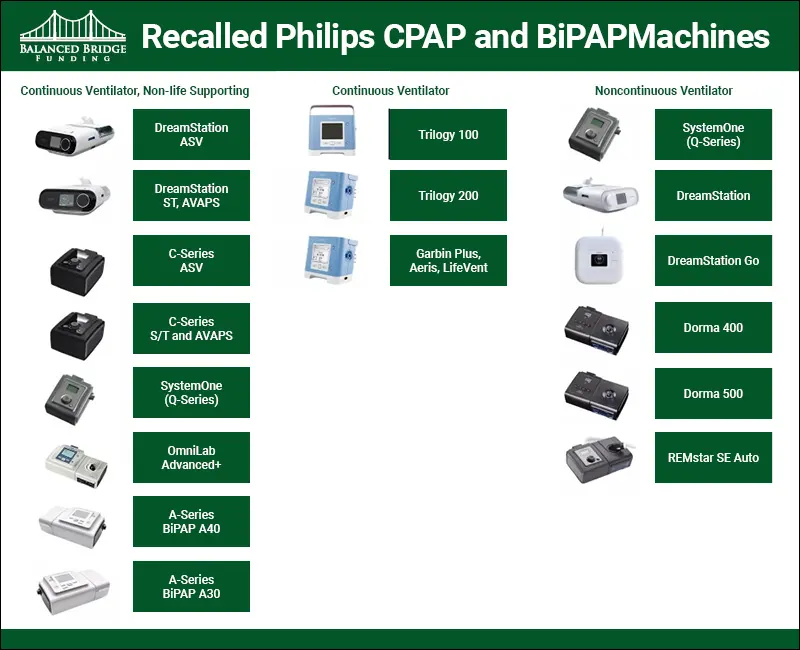 Philips CPAP and BiPAP Machines That Have Been Recalled
Philips Has Recalled CPAP and BiPAP Machines:
Continuous Ventilator, Non-life Supporting
DreamStation ASV
DreamStation ST, AVAPS
SystemOne ASV4
C-Series ASV
C-Series S/T and AVAPS
OmniLab Advanced+
A-Series BiPAP A40
A-Series BiPAP A30
Continuous Ventilator
Trilogy 100
Trilogy 200
Garbin Plus, Aeris, LifeVent
Noncontinuous Ventilator
SystemOne (Q-Series)
DreamStation
DreamStation Go
Dorma 400
Dorma 500
REMstar SE Auto
Source: https://www.usa.philips.com/healthcare/e/sleep/communications/src-update
How Long Will it Take to Get Paid from the Philips CPAP Lawsuits?
MDL's take a long time to conclude. This is true for plaintiffs who endure the waiting, but it is also true for plaintiff attorneys who incur costs for years and do not get paid their contingency fees until a case concludes. Many people are aware of this.
But what most people are not aware of is that even once a settlement is reached, or judgement rendered, it can still take months up to ten years before the defendant pays what they owe.
Just to give you an idea of how long it can take for attorneys (and plaintiffs) to get paid from an MDL (or class action lawsuit): In 2020 USC (the University of Southern California) settled a class action lawsuit related to the sexual assault of students by one of its employees. It was one of the largest class action lawsuits ever settled at the time.
But, because of the massive amount of money the university had to pay out, the university was allowed to break up the distribution into two payments. The first payment went out nearly six months after the settlement agreement was reached. The second payment – did not go out until August of 2022, which was over eighteen months after the case settled.
Eighteen months seems like a long time to wait to get paid for your work, right? But compared to the infamous BP Oil Spill class action lawsuit eighteen months was pretty fast. The BP Oil Spill happened in April of 2010, and there are still people who are waiting for compensation (although not too many now) to this day. People waited years to receive any money from the BP Oil Spill settlement, including plaintiffs and the attorneys who represented them on a contingency fee basis.
So, you can expect the Philips CPAP MDL to linger in the court for a long time, and even once settlements are reached, it might take some time for attorneys and plaintiffs to receive their money.
Getting Some Money Faster
Because of the gap in time between a lawsuit concluding and the defendant paying what they owe, most attorneys (and some plaintiffs) take advantage of a financial instrument known as post settlement funding. The way it works is, if you are part of an MDL like the Philips CPAP lawsuits, once the case has been settled, and you are just waiting to receive your contingency fees for the plaintiff work you've done (or receive your settlement money if you are a plaintiff), you can work with a legal financing company like Balanced Bridge Funding and get money right away (for a fee). In the industry, this is known as a "post settlement advance."
How Post Settlement Funding Helps Law Firms
When you win or settle a case and are waiting to be paid from the lawsuit you can "sell" a portion of the money that is owed to you to a legal funding company for a fee. The contingency fees you are owed are considered an asset, and just like any asset, you can sell it to someone else.
In the case of post settlement funding, rather than waiting for the defendant to pay, you can sell your ownership of your pending contingency fees to a legal funding company. You get your money right away – the legal funding company waits for the defendant to pay them directly (through the attorney of record for the case).
The benefit to the law firm is they get most of their money right away. The benefit to the legal funding company is they get paid a fee (called a discount) for waiting to get paid.
How Post Settlement Funding Works Infographic

Let Us Explain How Post Settlement Funding Works
Let's say you are going to receive $100,000 in fees from a settlement like the Philips CPAP lawsuit at some point. But you want to get some of that money right away.
Here is a Fictitious Example of How Post Settlement Funding for Attorneys Works: 
$100,000 – Amount of money The Law Firm is Owed (to be paid in six months)
$50,000 – Amount sold to Legal Funding Company for $45,000
$45,000 – Amount the Law Firm Receives From the Legal Funding Company
$50,000 – Remainder of Money the Law Firm Will Receive When the Defendant Pays
$95,000 – Total Amount Law Firm Will Receive ($45,000 Advance + $50,000 When Settlement Finally Pays Out)
$50,000 – Amount the Legal Funding Company Receives Once the Defendant Pays*
$5,000 – Amount of Profit the Post Settlement Funding Company Makes
*This the amount collected assuming it takes the full six months to pay.
NOTE: This information is a fictional example for the purpose of explaining how post settlement funding for plaintiff attorneys works and does not reflect rates or fees charged for post settlement funding as each case is different.
Is Post Settlement Funding A Loan?
A settlement advance for class action lawsuits is not a loan. When you receive a settlement advance, the legal funding company does not loan you money. The money you are owed from a class action lawsuit is considered an asset (like a stock or bond). And just like any other asset you own (like a stock, bond, or your car or house); you can sell it to someone else.
Summary – Philips CPAP Lawsuit 2023
Sleep apnea impacts around 18 million people in the United States. Because of the severe health risks associated with untreated sleep apnea, up to 8 million Americans use CPAP machines of some sort to treat their sleep apnea.
Unfortunately, some manufacturers are in trouble and are being sued over the potentially harmful health hazards associated with the materials used in construction of their devices. Initial information suggests that Philips knew the foam used in their devices (PE-PUR Foam) was prone to breaking down and flaking off into small fragments that could easily be inhaled or swallowed by people using their devices.
And despite knowing this, they kept manufacturing their CPAP devices this way and never warned users about the potential harmful risks associated with the materials they used.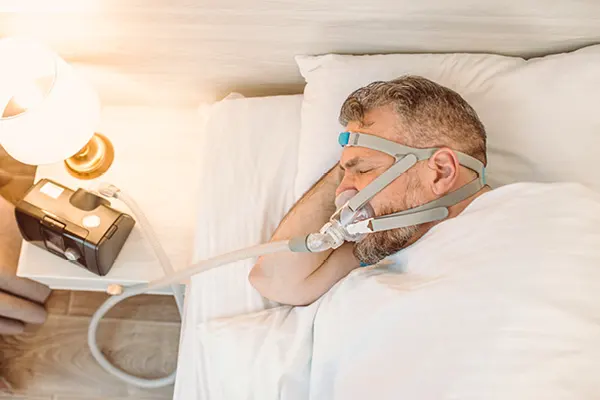 There has been a massive recall by Philips of their CPAP machines, but even today, the FDA accuses Philips of not doing enough and not acting fast enough to replace CPAP machines they put into the market that contain PE-PUR foam in their construction. The FDA website further states that although the Philips website says they have "shipped" over 2,000,000 repair or replacement kits, this number includes manufactured repair kits shipped to their internal repair facilities – not to consumers.
Again, here you have a company who is already in trouble for their way of doing things and is now exaggerating the truth about their efforts to solve the problem. And exaggeration is just a five-syllable word for lies.
You can expect it to be some time before we reach the end of the Philips CPAP lawsuit saga. There are still bellwether trails to work through, and much more. All of this will take time. Plus, one thing we have seen in large lawsuits like this one is that once lawsuits begin over a type of product like a CPAP device, many more lawsuits typically follow, either for other products, or other manufacturers of similar products who exercised the same bad judgement in their manufacturing processes and failed to protect consumers.
About a Post Settlement Advance with Balanced Bridge Funding
A Post Settlement Advance is a Non-Recourse Transaction: We Accept All the Risk
Class Action Lawsuit funding is a non-recourse transaction. This means you don't need to worry about what might happen if the defendant suddenly can't pay your settlement award — we accept all risk of non-payment, meaning that you will still get to keep the money from your settlement advance if the defendant goes bankrupt or is unable to pay for whatever reason.
Fast, Hassle Free Application
In most cases we can get your money in your hands in one week or less. Our application is simple, straightforward, and easy to complete. Remember, this isn't a loan, so there isn't as much paperwork to go through. In most cases, we can approve your application and have your money deposited into your checking account in a matter of days.
If you think our post settlement funding solution could be the right fit for you, please call one of our legal funding specialists at 267-457-4540 or to apply online, simply CLICK HERE and fill out our short, hassle free application.