Abilify 2019 Settlement Update: Latest News!
October 2, 2019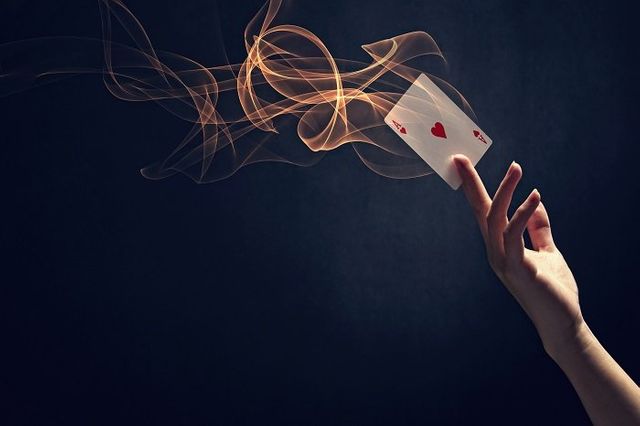 Litigation has grown over the last several years concerning the antipsychotic medication Abilifyand the serious side effects it has caused in thousands of patients.
Recent news and court filings indicate that a global settlement has now been reached to resolve these cases.
Breaking News for 2019: Global Settlement Announced
According to Reuters, "Bristol-Myers Squibb and Otsuka Pharmaceutical have reached a global settlement with plaintiffs, who sued the companies alleging they failed to warn their anti-psychotic drug Abilify could cause uncontrollable compulsive behavior.
The settlement agreement, which was reached on February 15th and disclosed on Tuesday in an order by the federal judge overseeing the Abilify multidistrict litigation, is confidential and no further details on its terms were immediately available."
Abilify Litigation Timeline Infographic:
The below infographic, courtesy of Maxwell Law Group, provides an easy to understand breakdown of major events in the Abilify litigation as it pertains to compulsive behavior.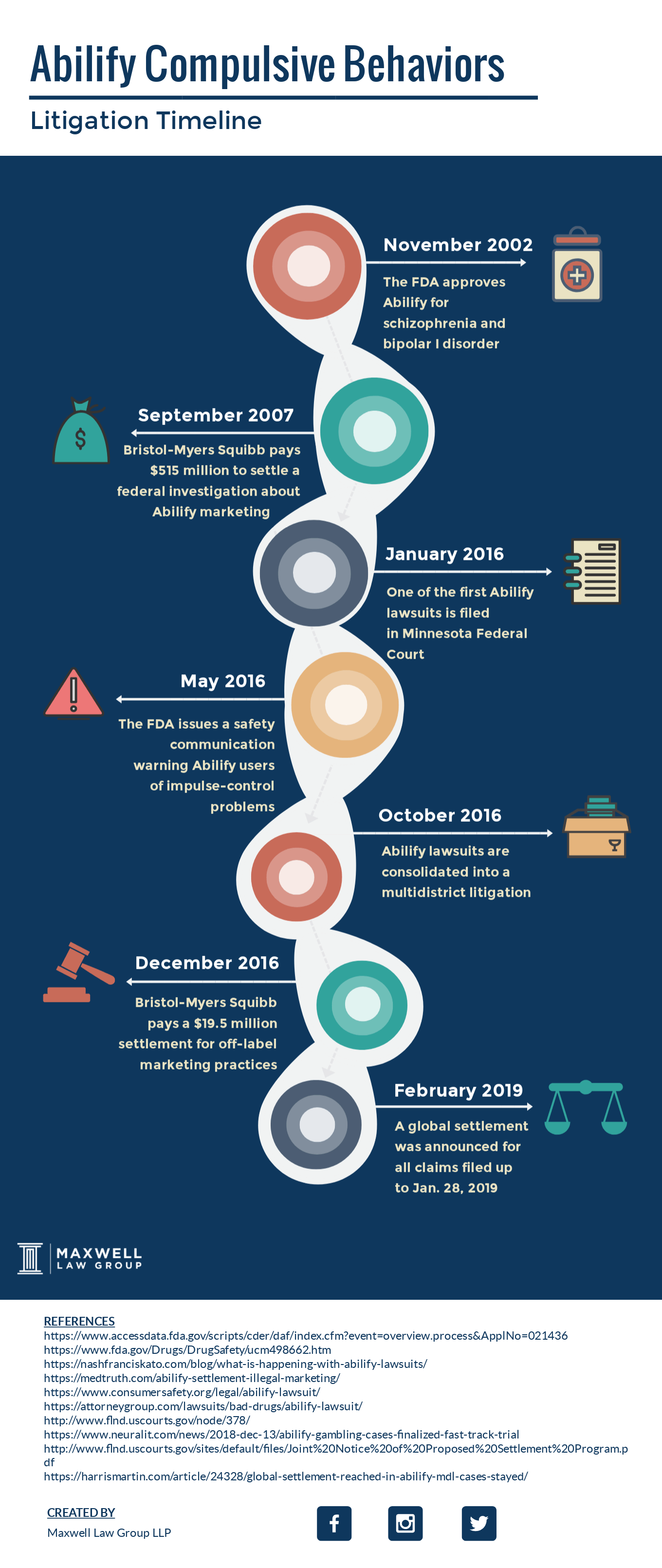 Use of Abilify & Side Effects
Abilify also goes by its generic name, aripiprazole. It was first discovered by Otsuka Pharmaceuticals in the mid-1990s, who partnered with Bristol-Myers-Squibb to eventually complete approvals and market the drug.
Aripiprazole was approved by the FDA starting in 2002 for use in schizophrenic patients. Its use was expanded to include treatment for manic episodes, major depression and autism. The brand name Abilify drug became increasingly popular over the last 15 years and annual sales approached $7 billion by 2013.
Abilify was marketed to include side effects such as nausea, weight gain and headaches. However, many patients on the drug also began experiencing a variety of compulsive disordersincluding gambling and shopping addictions and uncontrolled promiscuous behavior.
Various scientific studies began linking the use of Abilify with an increase in compulsive behavior like gambling as early as 2010. Plaintiffs began bringing lawsuits against the manufacturers accusing them of downplaying such risks and seeking compensation for money lost due to increases in these compulsions.
Abilify Litigation
In late 2016, an MDL was established in the U.S. District Court of Northern Floridaunder Judge M. Casey Rodgers. Within that same time frame, Bristol-Myers-Squibb reached a settlement with the U.S. Justice Department over illegal marketing of Abilify and the downplaying of risks associated with the drug.
Within a few years after the MDL was established, nearly 2,000 claims were pending within the federal court system. In mid-2018, 3 bellwether trials scheduled for that summer were suspended as the judge indicated that the parties had reached settlement terms.
Aggressive schedules were established for subsequent bellwether trials to begin by summer 2019. However, a February 2019 order called for a status conference between the parties after it was indicated that a global settlement had been reached.
As of now there has been little additional news concerning the Abilify settlement and any award determinations.
Once Awards Have Been Determined, Balanced Bridge Has Post-Settlement Funding Solutions
Balanced Bridge Funding specializes in post-settlement advances for attorneysand plaintiffs on settled cases that are awaiting distribution.
For plaintiffs with Abilify claims, Balanced Bridge would be in position to provide funding once award amounts are sent out. If there are still going to be delays until the payment of those awards, Balanced Bridge can offer advances for those who don't want to wait.
The same service can also be applied to attorneys for their fees owed in this or any other settled case with a delay.
Once we have documentation of the award amount or the attorney fee, Balanced Bridge can typically fund within just a few days.
Please visit our website for more information or call us at 267-457-4540 to see if a post-settlement advance is an option for you.
Written by Richard Heilshorn , Senior Investment Analyst at Balanced Bridge Funding.